School Diversity Week founder: 'I don't recall a single teacher using the word gay'
Tim Ramsey wants all LGBT children to feel free to be themselves – but says Birmingham shows we have a long way to go
The first mention Tim Ramsey ever heard at school of homosexuality was negative, he remembers. "I was in a year 5 lesson and we were looking at the life of a composer. And one of the boys on my table said, this guy is gay. He's a faggot."
Ramsey already knew that he was gay, and that rejection set a tone that continued through his school and university years: it wasn't until he was 25 that he felt able to come out. And it's the hope of changing the climate around LGBT issues in schools, so today's pupils have a more positive experience than his own, that has led Ramsey to found School Diversity Week.
This year (1-5 July) the programme will involve one in four secondary schools, as well as many primary schools, and take in more than a million pupils. It is not bad going for an initiative that is only in its fourth year.
And yet, agrees Ramsey, these are depressing times for those interested in changing the climate around LGBT issues in the UK. Protests in Birminghamagainst the teaching of LGBT equality; Ann Widdecombe's comments about science finding a cure for homosexuality; and the backing of the one-time Tory leadership hopeful Esther McVey for allowing parents to withdraw their children from lessons around LGBT relationships are all, he says, disquieting.
"What many people don't appreciate is how it feels to be surrounded by these debates and controversy," he says. "In those Birmingham schools, for example, we could expect one in 10 pupils to be LGBT; and their first experience of these issues will be people protesting at their school gates."
What's more, a survey commissioned by Just Like Us, the charity Ramsey set up, has found that almost nine in 10 LGBT young people have experienced anxiety (85%, compared with 56% for their non-LGBT peers), that LGBT young people are twice as likely to have experienced discrimination, and that three in four have experienced bullying (as opposed to 52% of their peers).
Ramsey is 29: he'd hoped that youngsters growing up these days would have an easier time of it than he did at Lancaster Royal Grammar, an 11-18 all-boys school. However, conversations with the young people who volunteer to go into schools for Just Like Us suggest otherwise.
"I'm often struck by how similar our stories are," he says. "I can't remember a single teacher at school ever using the word 'gay'. It really was the worst thing you could be. I was terrified of being the gay boy. I'd known since the age of about six, but I never spoke about it, never opened up to anyone. It was an intensely lonely experience, and that's what leads to mental health issues."
The point he wants to drive home is that LGBT issues "are everyone's business, because you can literally save someone's life by being there for them and supporting them".
At his "very straight, laddish" school he feigned illness to get out of sport, and didn't touch alcohol for fear of letting slip the truth about his sexuality. When he got to university things weren't much easier.
"I studied classics at Brasenose College, Oxford. I'd imagined that I would finally be able to come out: but what I hadn't realised was that after seven years of creating an image of myself as straight, it was very difficult to overthrow that in an environment where, as a state school kid from the north, I already felt a bit of an outsider."
When he eventually shared the truth with a university friend, his world came crashing down. "I got very drunk, told a friend – and things didn't go at all well.
"I remember walking along a street in Oxford and I'd smashed my phone into some glass and my hand was covered in blood. My friend had rejected me: it was the thing I'd feared all these years. What I desperately needed was for someone to say, it's all going to be fine. That would have made a world of a difference. I was in such a mess, I can imagine things working out in a very different way."
Ramsey's parents didn't have any gay friends, and LGBT issues weren't discussed at home. His family are close – he has one sister – but he says his parents, like many of their generation, had hoped his life would be an enhanced reflection of their own.
This is another important part of the raison d'etre of Just Like Us: because LGBT pupils, unlike those from other minorities, often lack support at home. "Many minorities are something you're born into, but most gay children aren't born into LGBT+ families, so they have to find their own community. And that's why the culture around being gay in schools is so crucial, and can make a life-changing difference," he says.
It's impossible, says Ramsey, to guarantee attitudes towards LGBT issues in the home – but it should certainly be possible to make schools safe and welcoming places for children, whatever their sexual orientation.
After he eventually came out at the age of 25, Ramsey met a man called Ben with whom he shared a very similar background, but whose experience of being gay had been totally different. "He was like the person I could have been: he was grounded, and happy, and he'd never had to be secretive about who he was."
So what was the difference? "One important thing was that there was an openly gay teacher at his school. That made me realise how important role models are."
Ramsey went back to speak at his old school, and off the back of that he launched Just Like Us, and then School Diversity Week.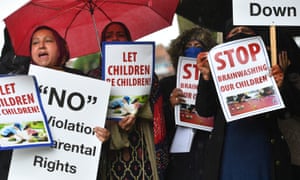 Schools that have signed up to Diversity Week can access an online toolkit with lesson ideas, says Ramsey; some schools run special assemblies, distribute rainbow badges, plant rainbow borders, or allow pupils to dress up in rainbow colours. "It's all about underlining the schools' respect for minority groups in general, and LGBT+ people in particular," he says.
Those that have opted in to the week of action include Catholic and Church of England schools (making up 5% and 9% of the total number of schools respectively), and some schools with large numbers of Muslim pupils. "One school with a significant number of Muslim pupils that's been involved from the start is Woodbridge High School in Redbridge, and that was mentioned in its favour in an Ofsted report," he says.
Ramsey is aware, though, that it is the schools that don't sign up which represent the challenge.
"Though taking part in the week can improve what schools are doing for LGBT+ pupils, those are the schools that are already aware of the issues," he says. "And I'm very conscious that, though take-up of the week has been high, we've got far fewer schools in Wales, North Yorkshire and Cumbria than other areas of the country.
"There's a real urban/rural divide around all this: in parts of London you get people who genuinely think it's not even an issue, whereas in other parts of the country, schools haven't begun to address it."
School Diversity Week this year is taking place throughout England and Wales; next year, Scottish schools will also be invited, and Northern Irish schools will be included at some point in the future.
Ramsey knows there may be an uphill battle ahead in some areas but he also knows it is worth it.
"I want this to be something children in school don't need to even think about," he says. "I want all schools to be places where all children can be themselves, fearlessly."